The program that equips your new leaders with everything they need (and nothing they don't!) to hit the ground running with confidence
Get in Touch Today!
DOWNLOAD THE BROCHURE
Get in Touch Today!
DOWNLOAD THE BROCHURE
Turn your leaders into leverage makers
Listen. We all do it. We hire our top performers into leadership roles…and then wonder why, when they were such outstanding doers, they suddenly seem…a little lost?
But also, we know. Leading is vastly different to doing. It takes a mindset shift, a new set of skills and tools, and a brand of confidence that just don't come naturally to most of us.
And we find ourselves asking…
How do we ready our new leaders without overwhelming them?
How do we give them not just knowledge and tools, but confidence and competence in leading?
How do we move them beyond knowing to actually doing the stuff of leadership?
How do we ensure our leaders feel engaged and invested in?
What new leaders need across industries is universal
Over the years we've worked with hundreds of leaders across industries including Financial and Professional Services, Tech, Pharma, Advertising, Retail and more. And despite differences in the nature of their work, their needs as leaders of people have been consistent.
They wished, universally, they'd been less overwhelmed, more confident, they knew what to focus on, had a place to ask "dumb" questions. They wished they had a place to practice and problem solve. They wished for a community of other new leaders. They wished they'd felt invested in, supported.
So we built SIMPLE. A cohort-based, group coaching program designed to…
Deliver clarity by focusing only on the 6 core elements that new leaders need to master
Grow confidence by focusing a little on content, but heavy on practice and action
Drive accountability (lovingly!) through action challenges whose results we discuss live
Create supportive community
Build a coaching capability that carries beyond
Offer a safe space for "dumb" questions
Provide real-time expertise through 1-1 coaching
What does the program cover?
Get in Touch Today!
DOWNLOAD THE BROCHURE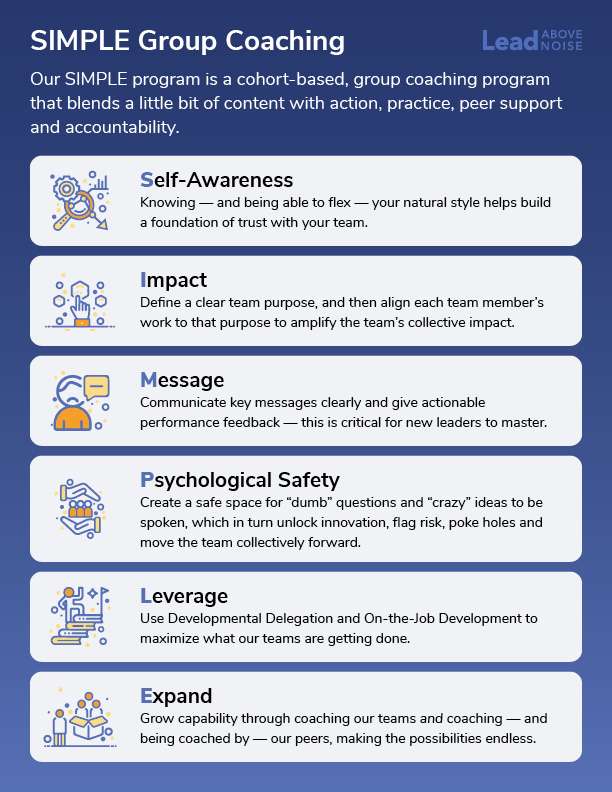 Get in Touch Today!
DOWNLOAD THE BROCHURE
What do participants actually experience?
The SIMPLE program is designed to run for about 4-months. It's a cohort-based experience which means a group of leaders is transformed into a community of leaders. And the key elements of the program are:
6 live facilitated group-coaching sessions during which participants will learn, discuss, role play, share experiences, ask questions, problem-solve, coach and be coached, and more
Brief self-assessment of their Social Style to gain self-awareness and inform areas of focus
6 "Action challenges" (homework) that each participant will execute to ensure muscle memory begins to take hold, driving behavior change
2 30-minute 1-1 coaching sessions with their facilitator during which more personal challenges may be discussed
Editable participant guide for capturing insights, questions, actions, celebrations, and more
Unlimited email access to their facilitator to pose questions or share challenges and celebrations as they go
Get in Touch Today!
DOWNLOAD THE BROCHURE